bachelorette party holi powder Mathilde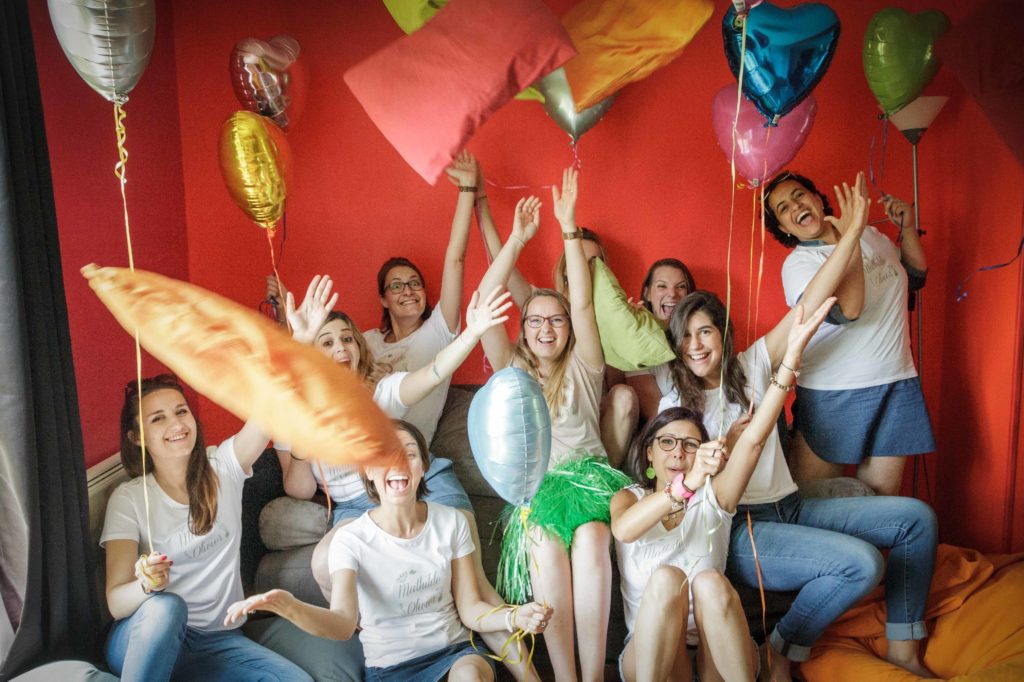 Here I am contacted by Mathilde's sister, Camille, to offer an atypical bachelorette party shoot with holi powder … 3 atmospheres: colorful / chic / sport.
Here is a very nice group of 10 young dynamic women full of ideas. The location for the shoot will be in the gîte where they have decided to gather for the occasion … Coming from all over France and even beyond, the appointment is therefore given on June 22. Here we are at the Katalpa gîte in Gradignan! A sublime cottage with a beautiful plot for fun for photos and also with a pretty yurt!
To make the girls relax (and also to prevent the helium balloons from deflating, we start with a white Tshirt "team bride" jeans and colored balloons theme. The atmosphere is super jovial, the smiles are there :) The atmosphere of the living room is just perfect with its beautiful bright red wall which gives even more fun to this photo series !!!
Then we continue the shooting outside, always with the balloons, for funny little poses and good memories in perspective! Yep, it was logical that outside there was one who dropped her ball;)
Let's go with colors!!!!
Change of atmosphere and here they are by the pool, for a chic evening dress, high heels and roses in hand. Much less obvious to be serious when you are a fun team;) Then Mathilde will continue the shoot on a pretty branch of the katalpa !!!! What elegance !!!!
Because it is messy, we end the shooting in sportswear mode with holi powder !!!! The rendering is awesome, the throw of the powder precise and of course like every time with the holi colored powder, it leaves in peanuts at the end …. Mathilde is radiant even covered with powder !!!! I let you discover it!